Nutella and Banana Milkshake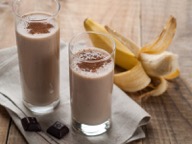 This milkshake is healthy and delicious. It will give you the energy to start your day. Perfect for a quick breakfast. Bananas are good for overcoming depression and help your relax your muscles. Enjoy!
Directions
1. Add all ingredients in the mixer and blend.
Cooks' note: Without cooking.